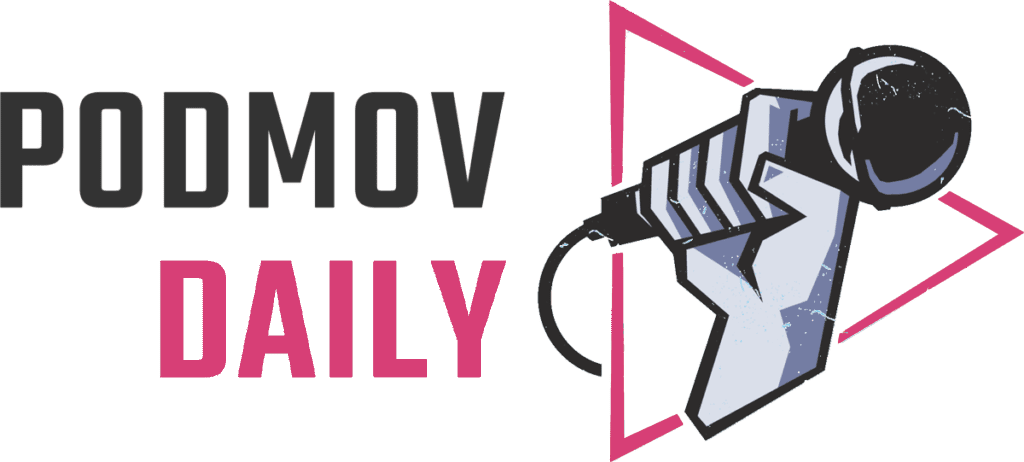 SPONSORED
BY

PodMov Daily: Tuesday, August 23
Episode 707: Testing, One Two-sday
Podcasting News Roundup + PM22 Day One
Howdy, y'all! The official PM22 kickoff is underway – more below. Onto the news.
NPR and YouTube have just announced a partnership to bring 20+ top-performing podcasts to the platform. Kai Chuk, Head of Podcasting at YouTube, commented that podcast content makes up "a good portion" of the more than one billion hours watched per day. Chuk will be speaking at PM on Thursday at 11:30 am.
Apple Podcasts will longer require an email address in RSS feeds starting next year. (Look forward to a reduction in spam.) Among other updates, when a creator submits a new show in Apple Podcasts Connect, "it will be immediately made available in the Apple Podcasts catalog."
There may be 4 million podcasts out there, but less than 4% have 10+ episodes and have released a fresh one in the last week. Amplifi Media CEO Steven Goldstein took a fresh look at data from the Podcast Index, and the results are likely to make current podcasters happy with their output.
---
Podcast Movement 2022 Begins
Sessions start bright and early tomorrow with back-to-back keynotes at 8:30. Gabriel Soto, Director of Research at Edison Research, will be followed by a conversation with Criminal host Phoebe Judge and Nishat Kurwa of Vox Media Podcast Network.
Early badge pick-up is today from 3:00 to 7:00 in Lone Star Ballroom B. The first 100 attendees to grab their badges will get a free drink ticket courtesy of Veritone One. Speaking of free drinks, the party continues in the Sheraton lobby bars from 7:00 to 9:00.
Now's the time to explore the sessions and set up your personal schedule in Swapcard. Reach out to [email protected] with any questions.
Hot tip: The Apple Podcasts Ops team is offering 1:1 sessions to help attendees get the most out of Apple Podcasts Connect (setting up a channel/subscription). Spots are limited. Keep in mind that this is not an editorial or pitch opportunity.
Powerful Podcast Content Marketing, Made Effortless
In the right hands, podcasting can be the powerhouse that elevates your business. Broadcast Your Authority is a premium, done-for-you content marketing service specializing in data-driven, optimizable podcasts. From market research to creative social assets, the heavy lifting is off your shoulders.
Building authority in your niche not only takes time, it takes omnipresence across platforms and deep knowledge of what's trending. Broadcast Your Authority provides a clear, consistent marketing flow that thrives on autopilot. Forget the algorithm – just press 'record' and leave it to the experts.
Ready for a better way to reach new audiences? Whether your business goal is to transform a podcast or start from scratch, authority starts here. Download the free guide "7 Simple Ways to Repurpose Your Podcast" to learn more and launch your journey.
---
Keep some room in your heart for the unimaginable.
― Mary Oliver
---
Here's what else is going on:
Check yourself: "Facts Aren't Boring" from Podcasting, Seriously is tomorrow at 4:00 pm ET. Amy Westervelt, host, producer, award-winning journalist and founder of Critical Frequency, will join Twitter Spaces to discuss the importance of getting the facts right on your podcast.
Full package: A thorough podcast press kit is essential for pitches, promotion, and finding advertisers. "Don't be scared to include seemingly obvious facts about your show," explains Tal Minear (Sidequesting). They'll be speaking about audio drama sound design on Thursday at PM22.
Rocky road: Meghan Markle's Spotify-exclusive podcast Archetypes debuted today, 20 months after the multi-year deal was announced. Her first guest is Serena Williams. It's the first of several shows expected from The Duchess of Sussex and Prince Harry's audio company, Archewell.
Quiet time: The free app Mutify allows non-premium Spotify users "to avoid being terrorized by random, loud ads." It doesn't skip or block ads, but automatically adjusts their (often extreme) volume. The app works with Android devices and Bluetooth hardware, according to Screen Rant.