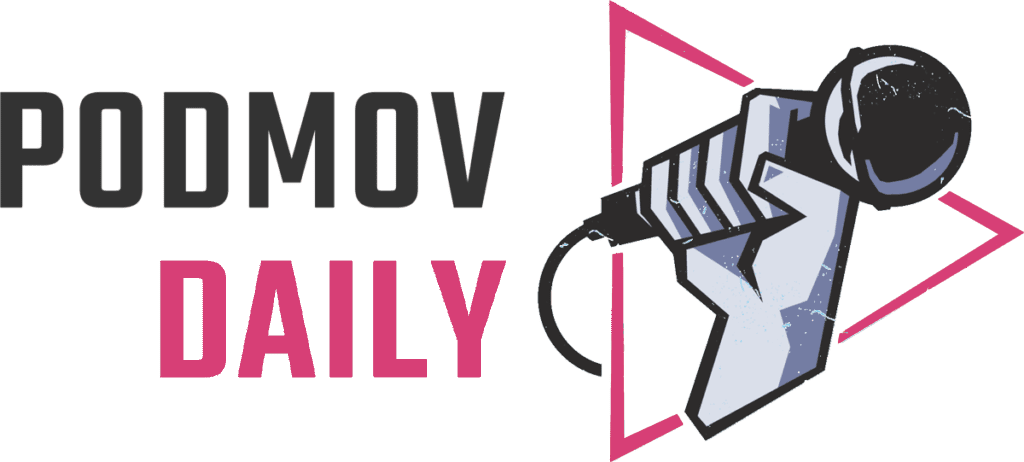 SPONSORED
BY
Aaand we're back (a day later than expected). We missed you yesterday! Onto the news.

PodMov Daily: Wednesday, March 2
Episode 599: Your Midweek Update
In 2022, "The Entire Internet" Will Be a Podcast
"The entire internet will be converted to audio and distributed on-demand" this year, predicts Conal Byrne, CEO of the iHeartMedia Digital Audio Group. For Forbes, Byrne forecasts changes far beyond 'podcasters making podcasts.' He's on board with articles and TV shows being adapted, but less solid on the impact of video.
Should podcasters shoot their recording sessions for YouTube? "There will be more experimentation in this direction — until podcast creators realize there's no immediate need," Byrne says. "The additional investment needed for video recording and conversion may not see a worthy return on investment when it comes to clicks."
Instead, he expects the industry to focus inward: "Binaural audio, social audio, geofenced audio — audio itself is on the brink of tech and format innovations the likes of which video enjoyed for the past 20 years." With new RSS-friendly tech like Spooler, which stitches podcast episodes together in real time, the future has arrived.
---
NPR and Spooler Tapping into Instant News
Speaking of Spooler, the new podcast platform will utilize technology that 'stitches' together podcast episodes in real time. Its first show will be a daily audio news brief that is "updated throughout the day to keep pace with the news cycle," reports Sara Fischer of Axios. Today, NPR launched a podcast that fills a similar need.
State of Ukraine will publish multiple episodes a day with updates and analysis on the Russian invasion. "Now there's another way to get news and analysis, on demand and in your ears," the NPR team said this morning. "It's especially great for those moments when your eyes and fingertips need a break from scrolling."
The show has already dropped several episodes, each less than 10 minutes long. Listeners can hear expert opinions on "what each new development means for the rest of the world," a major source of anxiety for millions. Though they use different technology, Spooler and NPR are tapping into '24-hour news' with far less filler.
The State of Business Podcasting Report 2021
What makes a business podcast successful? That answer will vary, but it pays to learn from the top content creators operating in the space. The State of Business Podcasting Report from One Stone Creative (now in its second edition) collects data on the top 100 business podcasts, to find actionable insights for every business show.
This year's report looks at more than 60 different data points across 8 categories – from branding to show notes, sponsorships to social media and more, providing benchmarks for questions like: "Should I put my podcast on YouTube?", "What kind of cover art should I have?", and "What's the most popular social media platform for business shows?"
The report is free to download and is followed by a detailed analysis of the data, year over year comparisons to the 2020 report, so you can see what is changing in the industry, and action steps you can apply to your own podcast.
---
---
Here's what else is going on:
Genius bar: Radiolab co-host Latif Nasser is the second keynote speaker announced for PM Evolutions. Also the host of Netflix's "Connected," he'll take the stage to talk storytelling, craft, and more. This week's PM update also includes six new sessions and detailed safety policies for LA.
Group chat: Today at 4:00 pm ET is "How Women Podcast Differently" from Podcasting, Seriously. The organization's weekly Twitter Spaces meetup welcomes Twila Dang, the founder and CEO of Matriarch Digital Media and producer/co-host of small change. No account needed to join.
A toast: Congratulations to Ashley Carman on her new gig at Bloomberg! Most recently the head writer of Hot Pod, Carman has been a cybersecurity reporter, gadget blogger, and podcast host over six years at The Verge. She'll continue to cover audio and will write a new weekly newsletter.
Player one: On Saturday Night Live, Fisher-Price's new Podcast Set for White Guys lets you shout "every crazy thought in your head without ruining your life." Made for ages 34 and up, the brightly colored set comes with many exciting features, namely that it does not record anything.