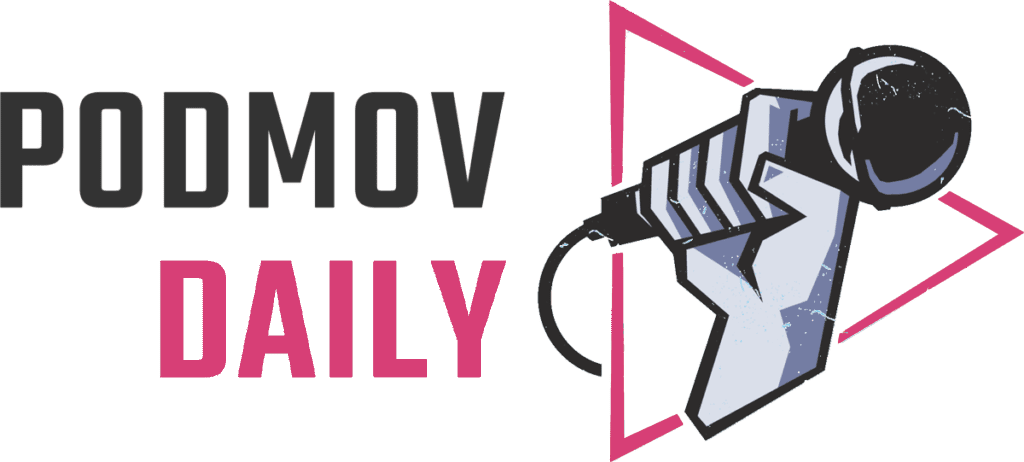 SPONSORED
BY
Editor's note: The newsletter will be off next week for a quarterly break, returning Monday, April 4 with your daily headlines, insights, and resources. PS: Podcasters are like sea otters — happy to be together. Happy Evolutions!

PodMov Daily: Thursday, March 24
Episode 615: Your Thursday Podthoughts
Takeaways for Podcasters from The Infinite Dial
Though listening behaviors have shifted as Americans return to their routines, podcasting's reach is wider than ever. The Infinite Dial 2022, presented onstage yesterday by Edison Research SVP Tom Webster and Wondery CEO Jen Sargent, is full of encouraging insights to help creators navigate and grow.
A few quick points: Nearly 80% of Americans over 12 have heard the term "podcasting," and 62% have ever listened to one. A mind-boggling 36% currently use TikTok, including 61% of people 34 and under. That said, do you have to add a video element to your podcast? Nope. For now, the experts say you're off the hook.
The first official day of Evolutions has begun bright and early with the Podnews Report Card. Come to hear James Cridland reveal the major platforms' grades, and stay for Will Ferrell (yes, that Will Ferrell) and iHeartPodcast Network CEO Conal Byrne, taking the stage at 8:45 am PT for a keynote chat.
---
Apple Podcasts Follower Metrics Are a Leap Forward
Follower metrics from Apple Podcasts "feels like an incredibly important piece of the podcast measurement puzzle" to Dan Misener. Pacific Content's Head of Audience Development explains the new opportunity to answer one of podcasting's most frequent and "frustratingly difficult" questions.
Now, every major listening app with a follow/subscribe system will be accounted for, Misener says. "With Apple Podcasts in play, it finally feels possible to use these disparate sources of data to cobble together a reasonable estimate of the number of people (or users, or accounts) that have opted in to your show."
While follower and subscriber metrics can help gauge the number of listeners who have 'opted in' to your podcast, they aren't the same as downloads or listeners. Misener explains the differences between them, how to use follower metrics, and why simply adding them up across platforms won't cut it.
Riverside.fm: HD Audio and Video Recording, Made Easy
Riverside.fm is an ultra high-quality recording solution for both audio and video. Separate tracks for each guest are recorded locally, making them look and sound like they're right in your studio. In uncompressed WAV audio and up to 4k video, every detail is clear and perfectly in-sync.
70,000 users — including Guy Raz, Gary Vee, and The New York Times — trust Riverside to deliver outstanding results. Local recording eliminates choppiness and delays, so every take is a breeze to edit. Plus, automatic backup and progressive uploading keep your files secure and quick to access.
Ready to make studio-quality podcasts without the hassle? Riverside is packed with powerful features like multi-platform live streaming, screen sharing, video call-in, and more. Create an account for 60 minutes of free recording, no credit card needed.
---
---
Here's what else is going on:
High proof: Ratings, reviews, and shares do not factor into the Apple Podcasts charts, the company confirms. This much is known (Podnews editor James Cridland has been trying to get it across for years). In a new blog post, Apple explains what does impact the mysterious algorithm.
Wise words: A perfection mindset will sink your podcasting productivity, says Podot co-founder Nick Hilton. The producer offers tips for saving energy, time, and disappointment. "It's not about making a sloppy product, but about making a good product as sloppily as you can get away with."
Complex space: "What Goes Into Great Audio Diaries" from SoundPath is coming up on April 7. Award-winning producer Jo Erickson will share some tips from her experience producing audio diaries for her series Systemic (Colorado Public Radio) and the BBC. $10 registration for non-AIR members.
Practice run: Doubt and overwhelm will pass if you keep podcasting, says Steph Smith of The Hustle. While growing her show Sh*t You Don't Learn in School over two years, Smith found ways to make "learning in public" a bit easier. Here's how to cut down on risk and test ideas ahead of time.